Insulated Concrete Form (ICF) framed houses have become a lot more popular lately.  It is a great option for your home.  ICFs are insulated forms that are filled with cement and then connected piece by piece until you have a complete home.  ICF homes have many benefits for you to consider.  The energy efficient is a lot higher than usual wood framing.  The insulated forms keep the outside out of the picture and you can control your interior temperature easier.  Going along with this, you get a home that is a lot quieter.  The design of the forms muffles outside noise and lets you enjoy your peace and quiet inside.  One of the most important features of an ICF home is the protection you receive.  If you look at the materials that are being used you can only guess how strong and durable your home would be.  The forms keep all the pests and mold out and they have proven that they can withstand some of mother nature's biggest storms.  I love the idea of ICF homes because they are virtually indestructible and they still look great.  You aren't losing anything going with ICFs instead of the usual wood frames.
House plan #107-1135 showcases how much you can do with an ICF house plan.  This floor plan is one of my dream plans.  It is a huge house that has everything you could imagine.  All of the rooms are extra spacious and give you a luxurious look has you feeling like a celebrity everyday.  The great design has a room for every occasion.  On the ground level there are many gathering areas with a big garage on the front and a long covered porch on the back.  The second floor has lots of balcony space which I always like to see and four huge bedrooms.  The master suite has a really big bathroom and the closet space in this home is unheard of.  The master bedroom and one other bedroom also feature their own covered balcony.  This plan is more of an example of what you can do with ICF construction.  I know I would never be able to use all that space but it is nice to dream.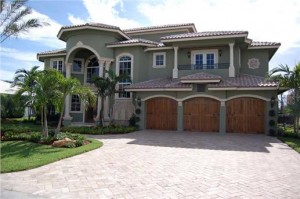 The Sierra house plan #108-1354 is something anyone could afford.  It is a quaint southwestern design that has 3 bedrooms and 2 bathrooms.  This plan, unlike the plan above, has only the bare necessities.  Some of its selling points are a large vaulted ceiling in the living area, a long patio in the rear and a garage with lots of space.  This home is much more simplified but it still has enough to draw your attention.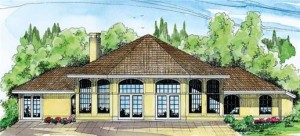 House Plan 159-1040 is made for the family.  It is probably one of the most practical ICF house plans that I've seen.  This house plan has two main living areas and a lanai in the back.  There are many options for family parties and hanging out with the friends.  The master suite is off by itself and has a door opening it to the back lanai.  The rest of the bedrooms are lined up along the left wall.  Two of the bedrooms have a shared bathroom and the last bedroom has its own bathroom.  With a three car garage, you can fit the family minivan and your other play toys.  I believe this plan would take advantage of all the benefits that come from ICF wall framing.