With more baby boomers coming of age, many Americans are downsizing, so they want much less space, but they like luxury and demand efficiency. It seems that one of today's bestselling house plans is a smaller two story house with open living spaces including a comfortable central common living area. Additionally, people seem to prefer split bedrooms where the master bedroom and bath are one side of the house, and the other bedrooms on the other side of the home, or a master suite downstairs and the other bedrooms upstairs or in the basement.
People are also expanding the outdoor living space – or what used to be a patio that is adjacent to the main living room, adding outdoor kitchens, seating areas and fire pits. And last, everyone wants a flex room, which in the old days we called a bonus room. The twist today is that for economically reasons, people are converting basements and attics for this purpose and the rooms are used for offices, in-law suites, or for kids who can't find a job yet. These tend to be built in areas above the main living room floor.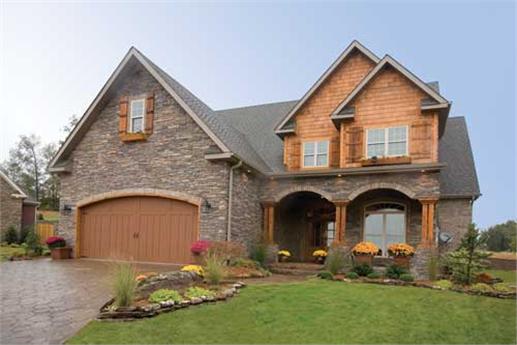 When it comes to the outside façade of homes that are trending as popular in the United States, craftsman styles are very popular. Brick and shingles add warmth. The Plan Collection features one four bedroom craftsman style house that fills many demands today – and it is just 2,470 square feet. It is House Plan # 153-1781.
Inside, homeowners need –and they actually demand – efficiency so you will find popular features including a great room with a fireplace; a dining room with access to the kitchen; a snack bar, breakfast room and walk-in pantry; a media center with built-ins, and a rear grilling porch.
The home's master bedroom suite features a convenient computer center, a walk-in closet and access to the rear porch. There are split vanities in the master bathroom which also features a shower, and whirlpool tub, all of which add up to a comfortable living space.
Floor plan (141-1020).
This house plan is a good example of a well-thought out floor plan. (169-1000)